Almost all organizations and businesses have to manage invoices and bills, and in this process, businesses generally check the data such as line item, amount, supplier name and address, date, invoice, or bill numbers.
But what is the right way of managing these receipts?
Well, most of the businesses use manual methods for managing the receipts, however, for the past few years, this method has caused many problems such as
a. Error in data entry
b. Spending a lot of time manually checking and verifying the receipts.
c. The manual system of receipt management does not assure data security due to which receipts can easily get misplaced or mishandled
These problems can easily be solved by a receipt scanning app which allows its users to capture the receipts or invoices using an OCR and machine learning technology to store all of the important data such as line item, receipt date, supplier name and address, description, tax percentage, and total amount. Once all of the data has been captured by the app users can easily push that data to their accounting software.
A receipt scanning app is one of the easiest ways to collect, manage and store receipts or bills for future references. MMC Receipt allows its users to upload unlimited receipts with unlimited team members. No matter where your team members are they can easily capture and upload the receipts in one click.
Since MMC Receipt can integrate with FreshBooks and ZAR money, users can easily push the data taken from the receipt or bill to the integrated software.
But what about other users who use other accounting software?
With a new update of MMC Receipt, your team members can manage receipts and export the data in a spreadsheet, allowing you to push the data in any accounting software.
The app provides your team members with a quick way of turning these bills into an excel, CSV, or JSON format, allowing them to easily import this data into any accounting software.

Exporting receipts in a spreadsheet
MMC Receipt provides a user-friendly interface making it easy to use for its users. Let's see how your team members can export the data in spreadsheet format:
Step 1: Once you log in to your MMC Receipt account through the web, you need to click on the "Drop file here or lick to upload" section of the app.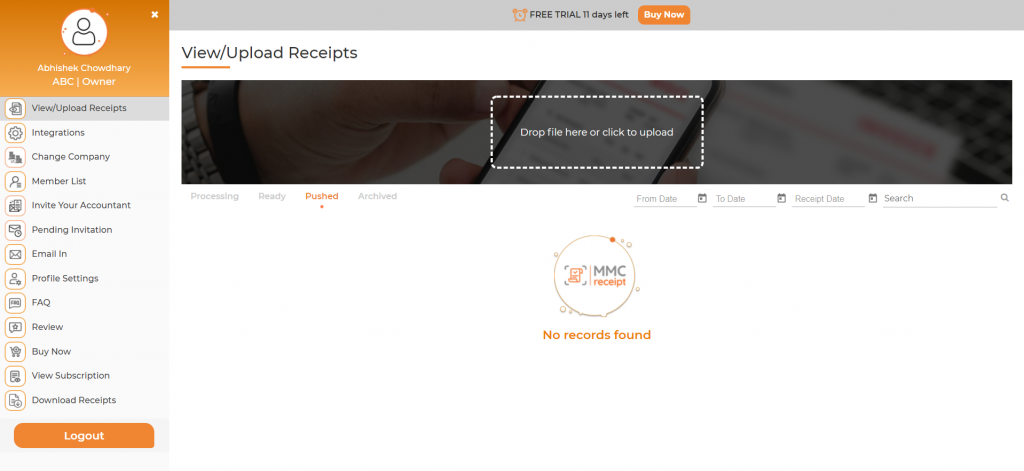 Step 2: Once the receipt has been uploaded and processed a user can view the receipt under the "Ready Tab"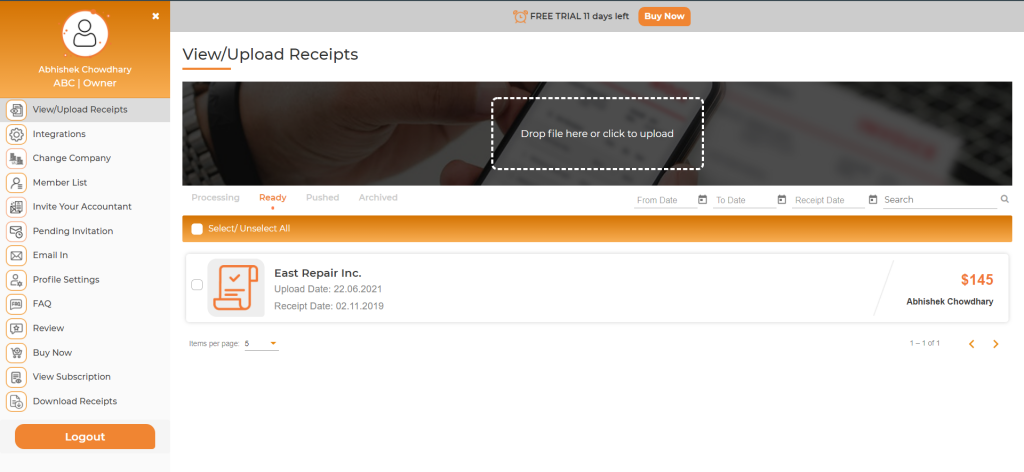 Step 3: To download the receipt in a spreadsheet you need to tick mark the receipts which you need to download.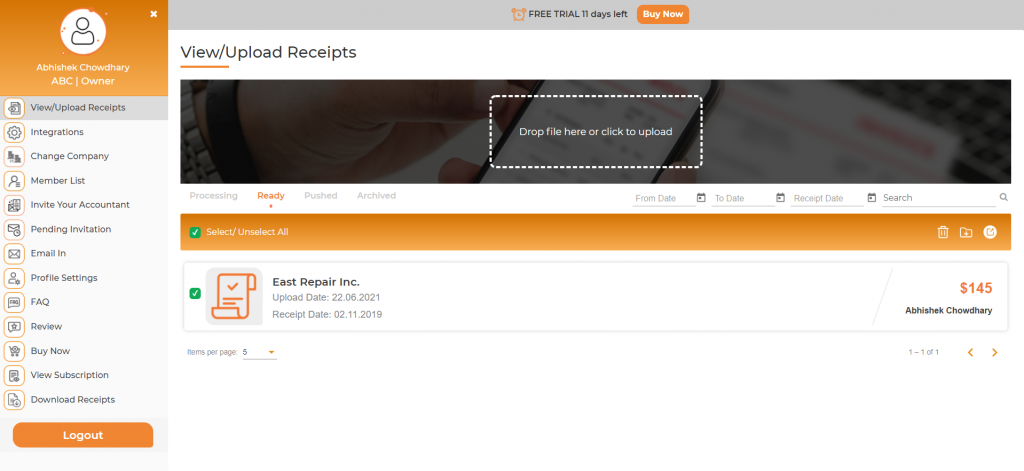 Step 4: Once you tick mark the receipts, you need to click on the Export option. As soon as you click on the export option you need to select the format of the spreadsheet.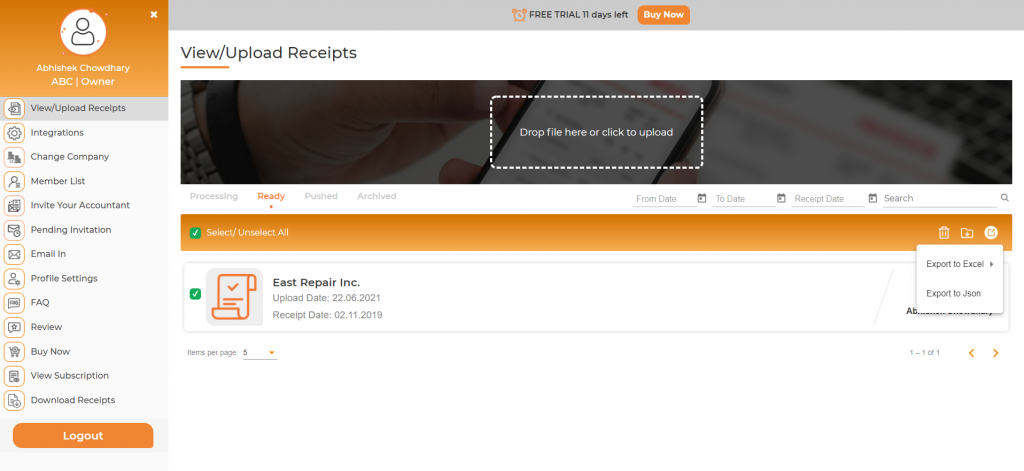 Step 5: Once you select your spreadsheet format, your receipts will be downloaded in the same format.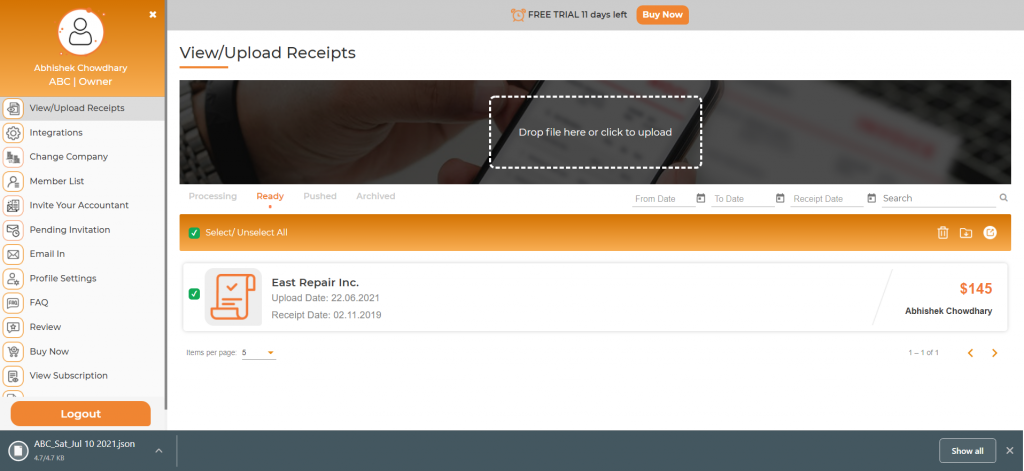 MMC Receipt is a new receipt management app that allows its users to upload unlimited receipts and add unlimited team members but it also allows its users to download data in spreadsheet format.
MMC Receipts allows its users to integrate the app with FreshBooks and ZAR money.
Even if you are using any other accounting software for your business you can easily export the data in the spreadsheet and import the same to your accounting software.
Just subscribe to MMC Receipt as low as 15 USD per month per organization allowing you to streamline the expense approval and reimbursement cycle while ensuring regulatory compliance.
Book a free demo and our team of experts will explain everything about MMC Receipt in detail.