Are you a business owner & using Quickbooks Online for your Business expense management work?
Business owners use Quickbooks Online as it is a renowned accounting software which makes expense management easier for their business.
You must be searching for a solution where you can handle your business operations without going through the nitty-gritty of expense management.
If you get a solution where you can integrate your business expenses directly into Quickbooks Online with just a few clicks, wouldn't it be a great idea?
MMC Receipt is a Fastest & precise Document Capturing and Processing App  through which you can easily scan receipts into Quickbooks Online.
MMC Receipt is a document scanning app that makes document management super convenient and hassle-free. This app helps you scan your receipts and provides instant pushing to Quickbooks online for a powerful document management experience.
MMC Receipt extracts the Original document image, Document Date, Supplier Name, Invoice Number, Line Item details like Description, Quantity, Price, Currency, and Tax Amount. Using Machine Learning, it also remembers the Account category for Vendors/ Suppliers and applies automatically for the next receipt from the same vendor.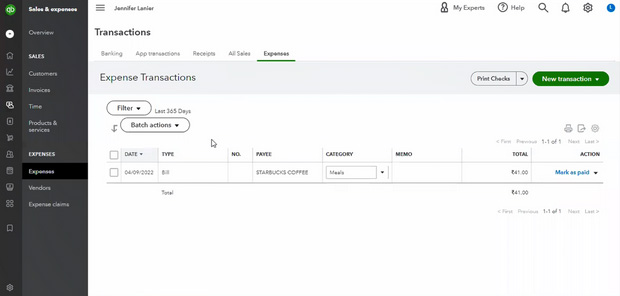 Apart from expenses and sales invoice, it also includes a bank statement import feature. If you do not have Bank feeds activated in your QuickBooks Online Account, and you get Bank statement in pdf file format from your Bank, you can simply upload the pdf bank statement file on MMC Receipt App, and it is converted into csv file format absolutely ready to be imported straight into your QuickBooks Online Account.
MMC Receipt uses OCR and machine learning to extract written information on the receipts and present the visible data in an easy-to-manage format, mapping each field from receipt to the respective field. In some cases, we also use a human team to check the quality of our data extraction.
Watch : MMC Receipt X QuickBooks Online: Seamlessly Upload your Receipts on the Go!
Benefits of Integration with Quickbooks Online
 The MMC Convert app gives its users features like Unlimited users, Unlimited cloud storage, and Unlimited document Scanning and processing, making it a convenient and handy document management tool.
 The document capturing app also offers other helpful features like multiple formats, multiple currency support, super-fast pushing to Quickbooks Online
MMC Receipt app offers its users a blazing fast and precise document scanning experience with Individual Line Item-wise Description for each document.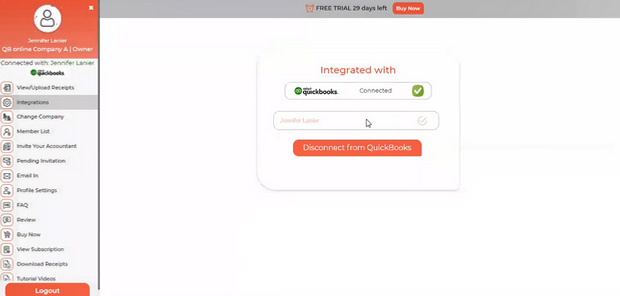 How MMC Receipt App Integrates with Quickbooks Online?
MMC Receipt integrates seamlessly with QuickBooks Online . With a few clicks, you can push your expenses from MMC Receipt to your QuickBooks Online file.
1. You need to sign up with MMC Receipt.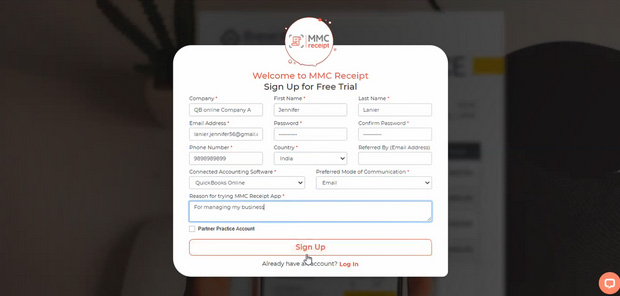 2. Start uploading Your receipts in MMC Receipt app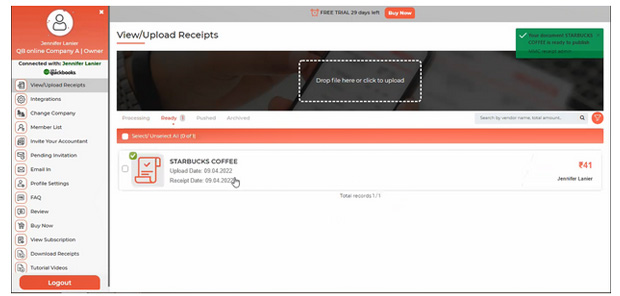 3. You need to check and approve them to simply push as a bill or sales invoice into Quickbooks Online
4. Now, check all the pushed bills live in Quickbooks Online.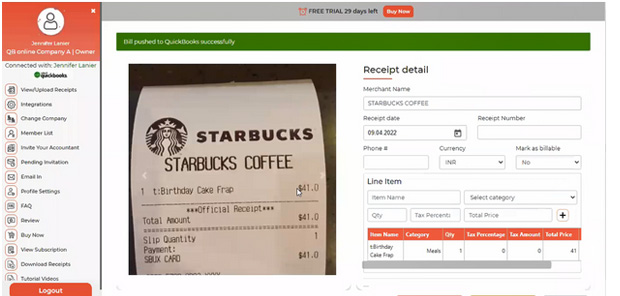 Why MMC Receipt For Integration With Quickbooks Online?
MMC Receipt is a fast & super precise expense management app that provides seamless integration to Quickbooks Online in just a few clicks.
You don't even need to pay anything upfront to start using the app. You can always take our free 30-day trial without entering any payment details and can start using the app instantly.
After the free trial, you can always choose from any of our flexible payment plans, ranging from monthly to a cost-saving annual one. This ensures you get more than what you pay for, every time you use the MMC Receipt app.
The app is available for both iOS and Android devices.A web-based platform is also available for on the go receipt scanning.
The best part of Quickbooks online integration with MMC Receipt is that your expense data is always updated in your account as soon as you push it from MMC Receipt to Quickbooks Online.
If you find any difficulty in scanning receipts to Quickbooks Online, amazing support staff is there to help you.
So, look no further, as MMC Receipt is the best among other receipt scanning and processing apps owing to its many features and advanced tools.